See on Scoop.it – catosplace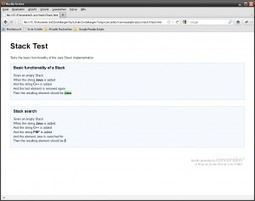 This introduction to Concordion for acceptance testing is aimed at assessing the tools capabilities from a acceptance testing perspective. It uses a BDD concepts to enable comparisons between the tool and JBehave and as such I feel has missed the point of Concordion as a more specification based tool.
Saying that, the introduction is clear, clean and concise and is recommended for someone new to Concordion. I believe strongly that its strength is the 'living document' it provides – this is not a report but a 'living, breathing representation of the specifications' which is a cause for the 'lack of reporting' prescribed in this introduction.
Whilst it is great to see Concordion examples being posted online, I still feel it is a misunderstood and under utilised tool (something the writer allures to in this introduction). I shall add it to my list of candidate blog posts…until then I highly recommend reading 'Specification By Example' by Gojko Adzic.
I would also recommend those looking at BDD Acceptance Tests review easyB as an alternative to JBehave. easyB has the ability to do both BDD stories and specification  – whilst not providing the 'living document' that Concordion does, it provides the reporting comparable to JBehave.
See on blog.codecentric.de