See on Scoop.it – catosplace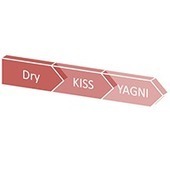 This rather lengthy tutorial delves into what the author considers to be the 3 key software principles we all need to undersstand, namely: DRY, KISS and YAGNI.
Even if you feel you understand these 3 principles well, this well written and researched piece could lead to an even deeper understanding of the principles than first thought.
As well as delving deep into each principle, this tutorial provides appropriate examples and pratical tips for principal application. Understanding these principles deeper and reviewing how they apply in your environment may help you produce better software.
See on net.tutsplus.com